Blog Home
Reviews
Workplace One Peter St. in-depth review. 5 great things you need to know if you are considering joining as a WorkplaceOne member.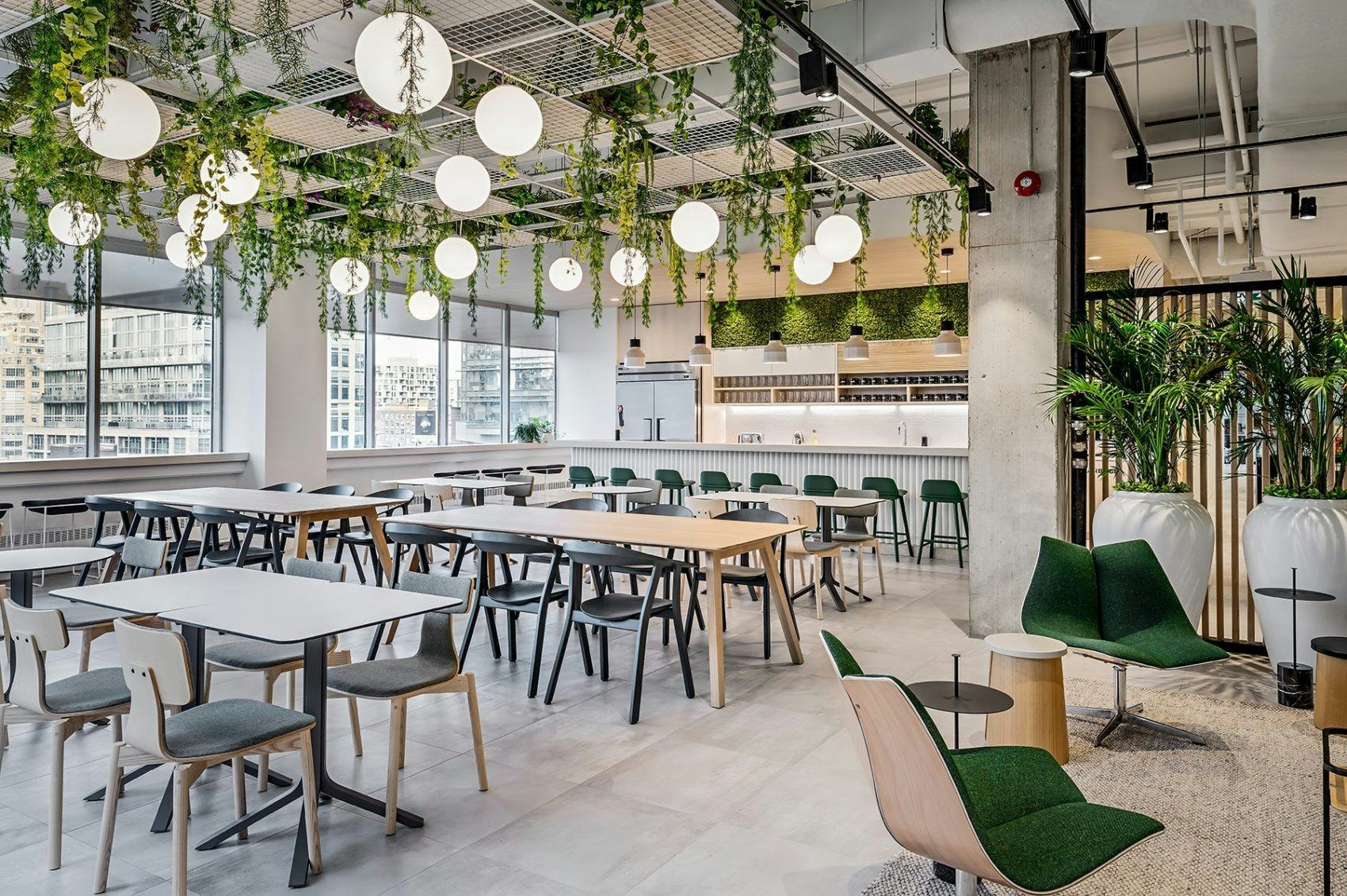 There are a couple of things that you can expect from a modern co-working space: open-space layouts, lots of lighting, unlimited coffee and tea, snacks, and sometimes office greenery 🌱. It is becoming more popular for companies to incorporate greenery into their spaces. For example, 80% of Apple's new headquarters in Cupertino consists of green space with more than 9,000 trees 🌳. The spheres 🔮, which are part of Amazon's headquarters, house more than 40,000 plants from all over the world.
If you are into plants, you may want to check out Workplace One Peter St.
This space features indoor plants, a moss wall, locally sourced Hatch coffee, tea, 2 meeting rooms, ergonomic chairs, a kitchenette, multiple lounges, 2 outdoor patios, 1 meditation room, 4 phone booths, and a total of 14,000 square feet.
After spending 3 months at WorkplaceOne Peter St., I decided to write about my experience as a Workplace One member. In this post, I'll go over:
Beautiful space with indoor plants and lots of lighting
Benefits of indoor plants
Its central location and what's around it
Pricing


Beautiful space with indoor plants and lots of lighting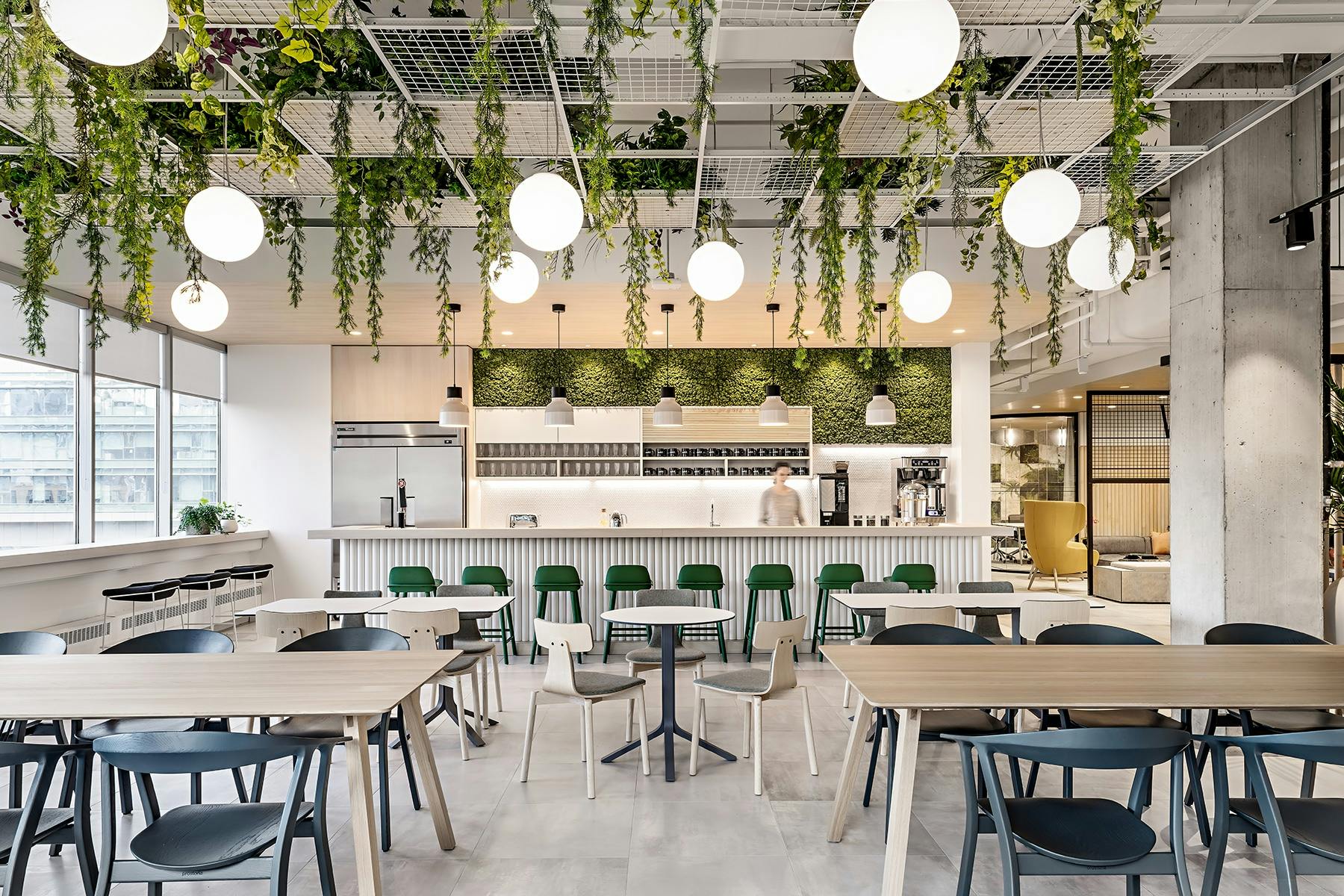 Long gone are the days of cubicles, grey walls, and just plain boring spaces. Even though talking about productive and inspiring spaces may sound a bit cliche, there's something unique about Workplace One Peter St. I loved how the workspace had plants falling off the ceilings, a live moss wall, lots of natural light, and 2 outdoor patios. I was a member from January until March so I didn't get to enjoy the patios sadly 😢. Apart from the indoor plants, you will also find glass walls incorporated between all the offices which maximize the natural lighting ☀️.


Benefits of indoor plants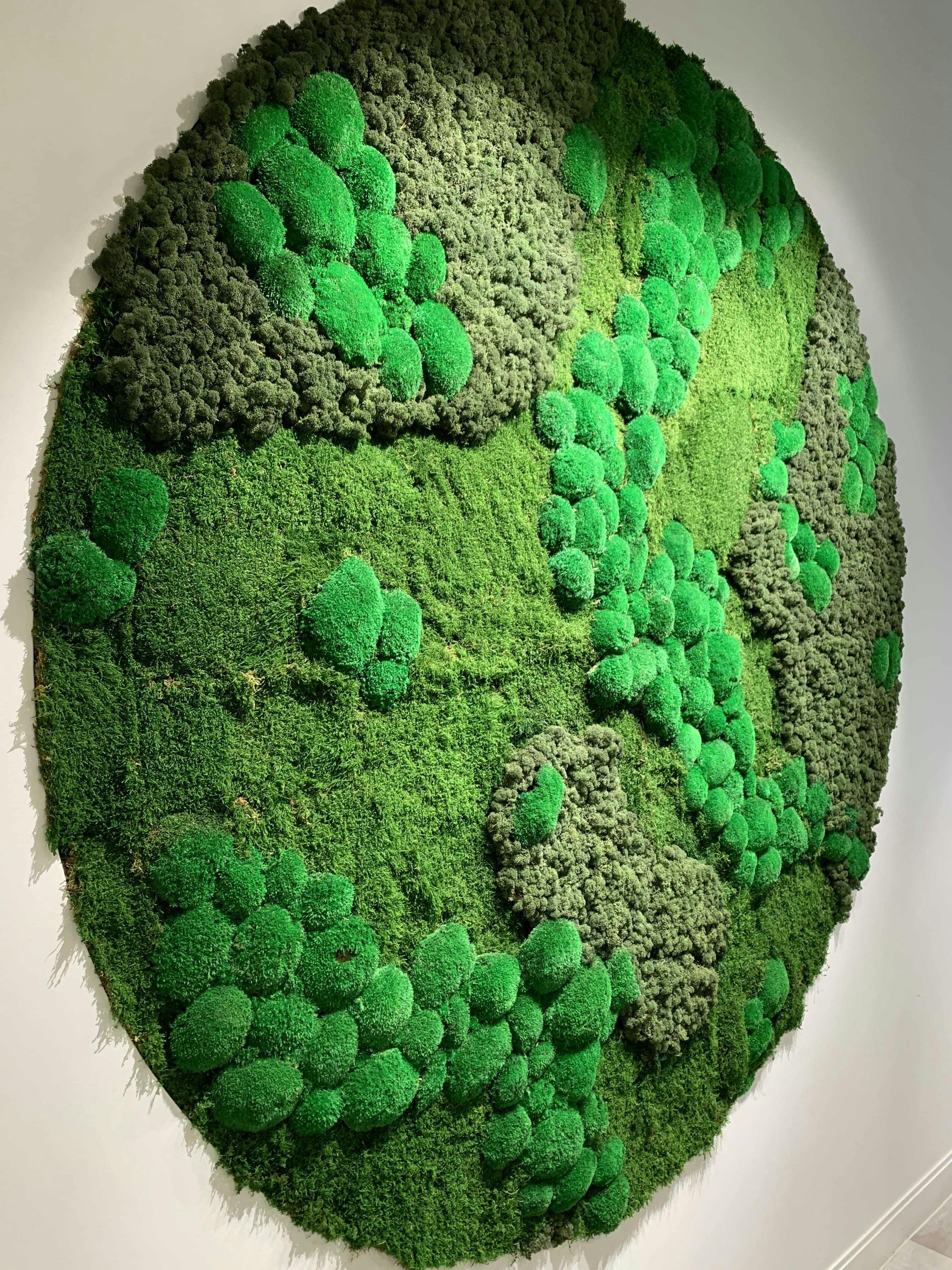 Are you familiar with the Biophilia concept? Harvard biologist, E.O. Wilson proposed that we humans have a natural tendency to connect with nature and other species. Basically, we have an innate need for nature. How many of us think that our downtown Toronto concrete jungle needs more greenery? 🙋🏻‍♂️.
Plants help reduce stress. According to a research study conducted in 2010 by the New University of Technology Sydney (UTS), office workers experienced a 58% reduction in depression, a 44% reduction in anger, and a 38% reduction in fatigue just by introducing plants into their workspace.
Plants help to increase happiness & productivity. A group of psychologists from Exeter University concluded that employees were 15% more productive when adding houseplants to their workspaces.
Plants make workspaces more attractive to job applicants 👩🏾‍💻. A third of us say that workplace design would affect our decision to join a company. In fact, Uber had their offices at Workplace One Peter St. before moving into their new offices at Bloor and Church.
Plants make your clients go "Woah" 😳. First impressions matter and most of your clients will compliment you when they see your office space.
Plants can boost creativity. According to the Human Spaces report, people who are exposed to natural elements in their work environment experience 15% more creativity and 15% higher level of well being.


Its central location and what's around it
Workplace One Peter St. is located in the heart of the entertainment district, one of Toronto's most energetic and lively neighbourhoods. The space is close to great lunch locations such as PAI, Aloette, Ikkousha Ramen, Kupfert & Kim, Khao San Road, and more. It is also a 15-minute walk from Union Station and a 9-minute walk from Osgoode Subway Station.


Pricing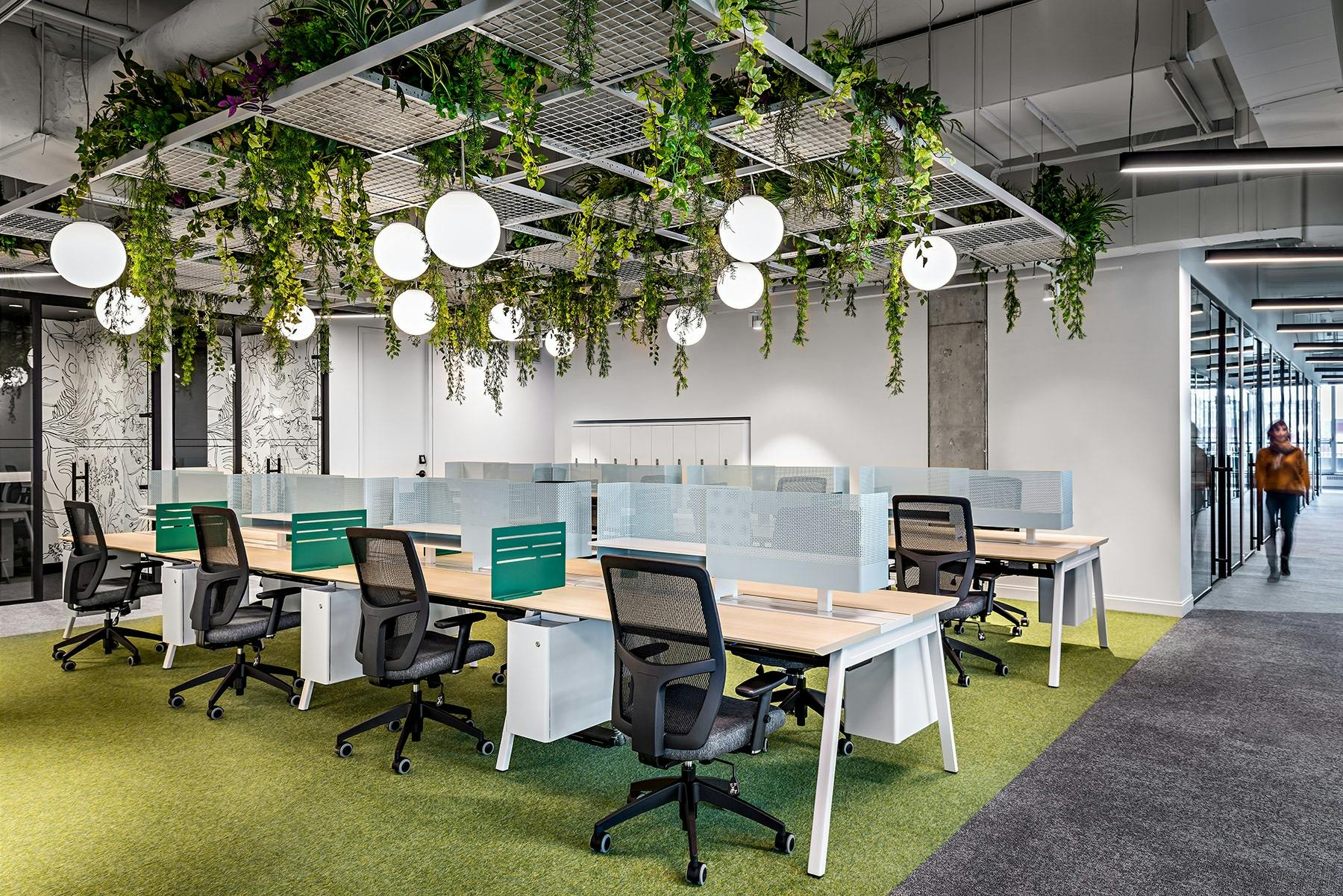 You would think that Workplace One Peter St. would have a heavy price tag given its central location, beautiful space, and premium amenities, but their pricing is more than fair. I actually think that this Peter Street co-working space is more of a hidden gem 💎. Dedicated desks go for $500/month, 2-person private offices from $1,600/month, 4-person private offices from $2,875/month, and 6-person private offices from $4,175/month. If you are interested in any of Workplace One's locations, make sure you book a tour through us so that you can up to 50% of your first month's rent in cashback🤝.


Conclusion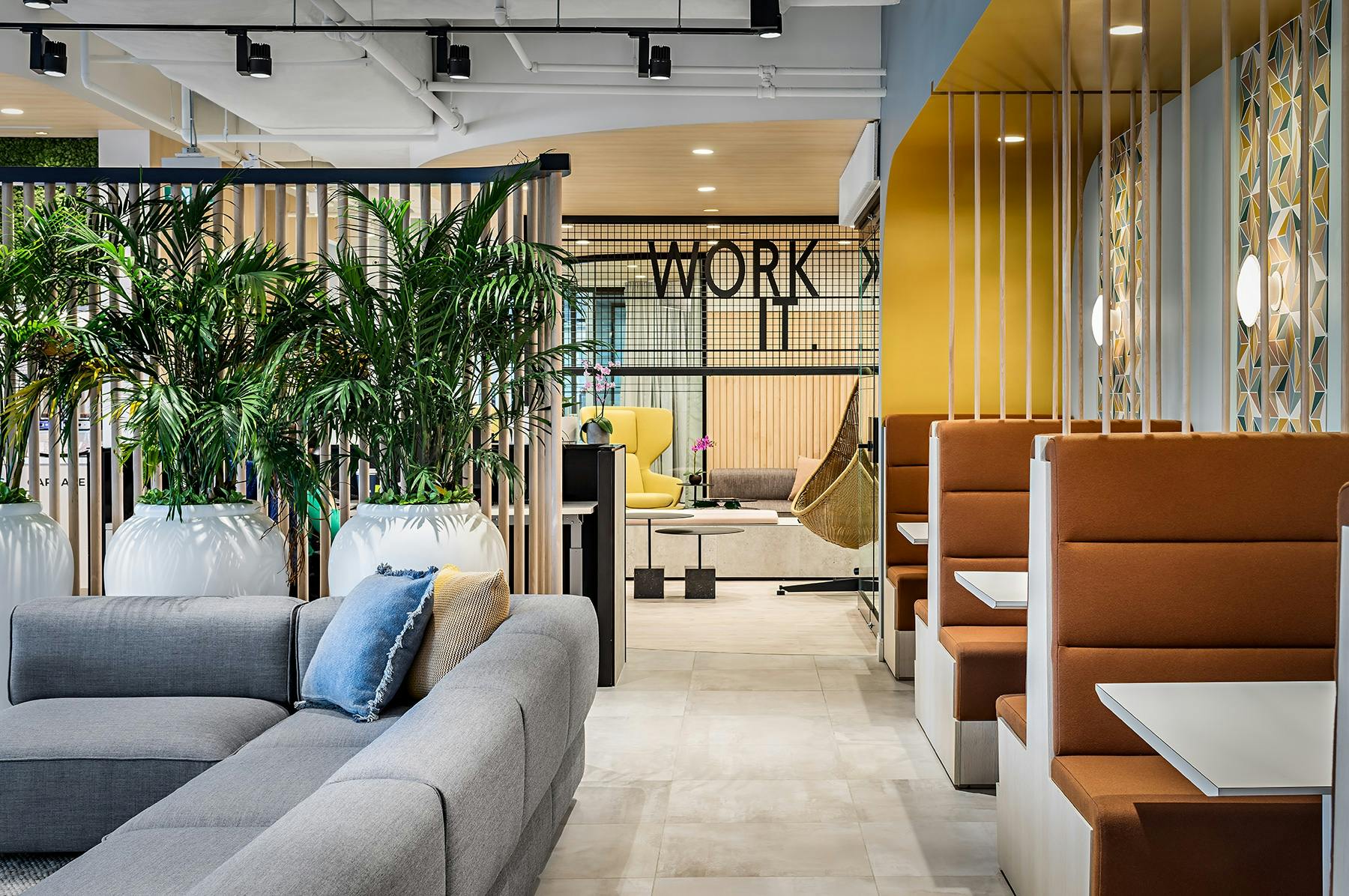 So there you have it: a beautiful space with lots of greenery, plants falling from the ceilings, a moss wall, lots of natural light, outdoor patios, a pristinely clean space, super helpful concierge, competitive pricing, and an amazing location. If you are looking for flexible office space in the entertainment district, a good option for you might be Workplace One Peter St. 👊