Blog Home
Workspaces
Co-working & Flexible Office Space vs. Traditional Office Space. What's Best for Your Business?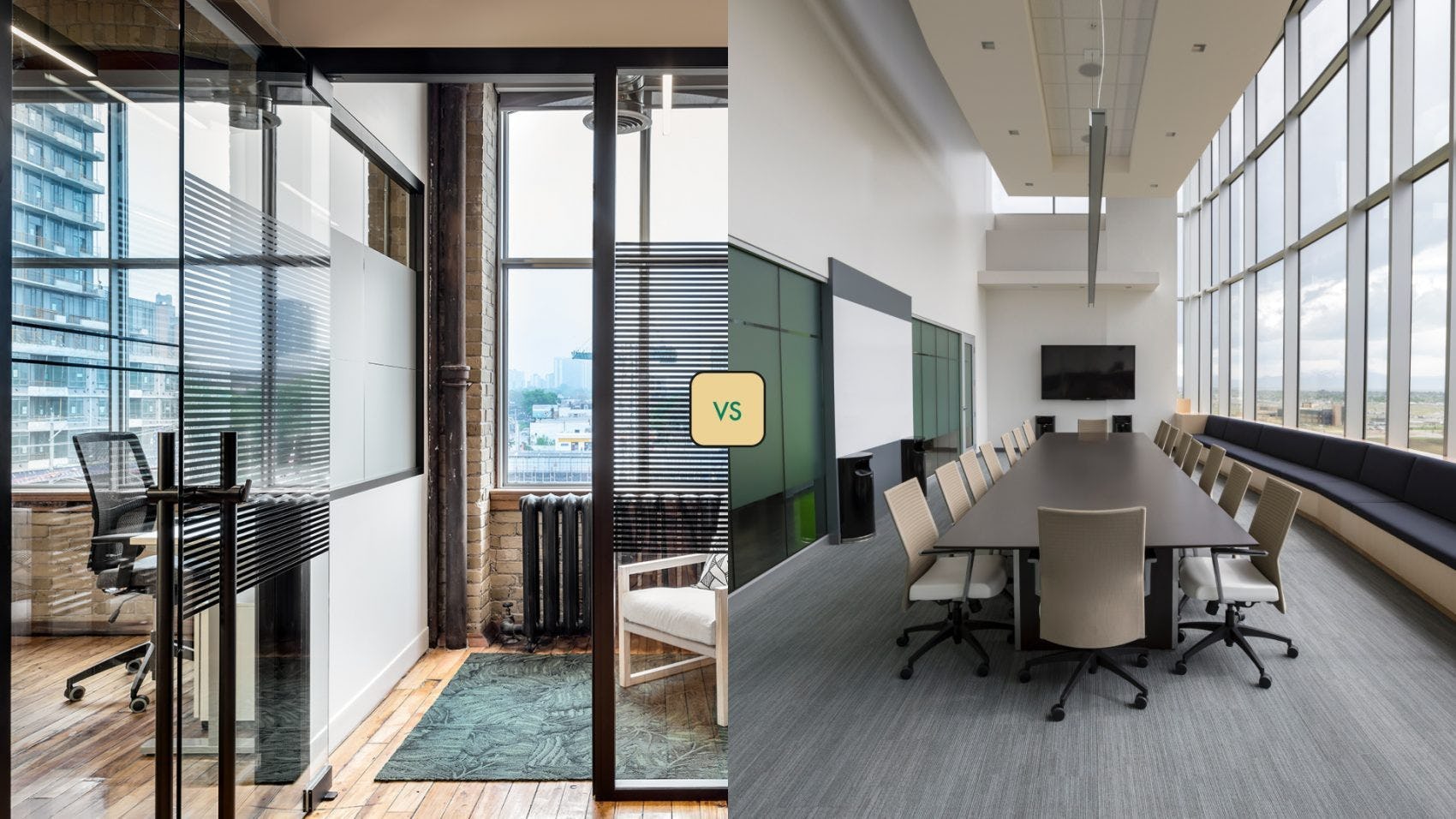 Right now you might be looking for office space and are asking yourself, "Should I consider co-working/flexible spaces, or should I go with the traditional route of a longer-term lease?"
The truth is that there are many factors to consider when looking for office space. But you can put your mind at ease. In this post, we'll go over:
The pros and cons of co-working & flexible office spaces
The pros and cons of traditional office space
The future of commercial real estate and its flexibility
An infographic detailing some of the differences


Co-working & flexible spaces
Typically, when people think of co-working spaces, they think of cool features such as beer on tap 🍺, hyper-millennial vibes, neon signs, bean bag chairs, ping pong tables 🏓, and, of course, hustlers 😎. While some of this might be true, the main thing that people should be thinking of when considering co-working and flex-spaces is flexibility. Even though giants like WeWork popularized co-working almost as a cultural movement, small teams and enterprises are catching up to the fact that flexible spaces actually make, well, business sense.


Pros of co-working & flexible spaces 👍
Flexibility
A key feature of co-working and flexible office spaces is flexibility. Need to stay for a month, 6 months, a year, or more? The choice is completely up to you.
Fully furnished & move-in ready
Remember that you are building a business and your focus should be on that. Co-working and flexible spaces provide you with desks, chairs, access to meeting rooms, Wi-Fi, coffee, and any other amenity that you can think of.
Transparent and upfront pricing
You don't have to worry about hidden fees. You pay a price per month and that's pretty much it.



Cons of co-working & flexible spaces 👎
It can be loud and distracting
Co-working spaces tend to have a lot of people walking around the kitchen, lounges, and meeting rooms, leaving you to deal with lots of noise and distractions.
Lack of corporate branding
With co-working spaces, you don't have any control over the people around you, the office space design, and its amenities.
Unavailable shared spaces
You might face the fact that meeting rooms might not be available because other people might be using it.


Traditional offices
It's your own space with your own rules. With traditional leases, you would have to commit to at least 5 years and strike a deal with the landlord with the help of a broker.


Pros of traditional offices 👍
Privacy
Less crowded spaces with no one from other companies looking over your shoulder.
Branding and culture
Since you are not sharing the space with any other companies, you are in complete control of your office space design and amenities that align with your corporate values.


Cons of traditional offices 👎
Long-term leases & less flexibility
Traditional offices often come with long term commitment of 5 years or more.
High up-front costs
Once you sign the lease, the space that you get usually starts out empty. This means that you would be in charge of the build-out, furniture, and utilities.
Office management
You would be in charge of getting your own supplies and you would have to maintain the office yourself. 🤯


The future of commercial real estate is flexible
According to a CBRE report, the flexible office market in Canada has grown by 79% since 2017. Even though co-working spaces were mostly sought out initially by individuals and small teams, space operators, such as Workplace One—specifically with their newest Wellington location, are now offering bigger suites for up to 30 people. As COVID-19 has taught us, a shifting economic environment has led us to more unpredictable times making businesses become more dynamic in their approach. Enterprises and Startups alike are becoming more nimble, thus making flexible office space an appealing option. This need for flexibility has given birth to many co-working spaces as well as Startups like ours where we make it easy for teams to find flexible office spaces while giving them cash back at the same time.